Sat, 09 Sep 2006
bCODE Drinks.
So, you've arranged to meets some friends after work at a bar like The Vault Hotel in Sydney's CBD. Then at 4:30 in the afternoon, whatever it is you're working on blows up in your face and you have to stay back to fix it.
Bummer! So how are you going to make it up to your friends? I know, why don't you buy them a drink! With bCODE Drinks you don't even have to be at the venue to shout drinks. All you have to do is go to the bCODE Drinks web page, choose a bar (currently only about 10, but growing every week), order the drinks, enter your friend's mobile phone number and pay with a credit card.
Once the drinks are paid for, your friend will receive an SMS message on their mobile phone that looks like this:

            bCODE
            =6ET3E=K6VAA=
            =CPFPS=UT<99=
            =HFH<N=D4C9U=
            Vault Hotel
            5 x House Beer

When they receive the bCODE SMS, your friend then needs to find the bCODE reader which looks likes this: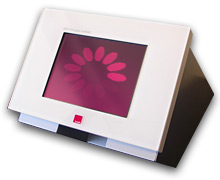 To redeem the bCODE, your friend needs to bring the SMS message up on the phone screen, make sure the screen back light is on and hold the phone under the reader. The reader takes a photo of the phone, screen scraps the text, does optical character recognition and validates against a back end server.
Once validated, a message comes up on the reader screen with the number of drinks. You attract the attention of the bar tender who clears the screen and serves up your drink.
If you buy your friends drinks they have to forgive you don't they?
Disclaimer : I have no affiliation whatsoever with the Vault Hotel. I do however work for bCODE

.